Bulk Materials Handling Equipment
SKE Conveyor is a bulk materials conveying system design and installation services provider. Our belt conveyor system can meet the different requirements of bulk material handling in muti-industry!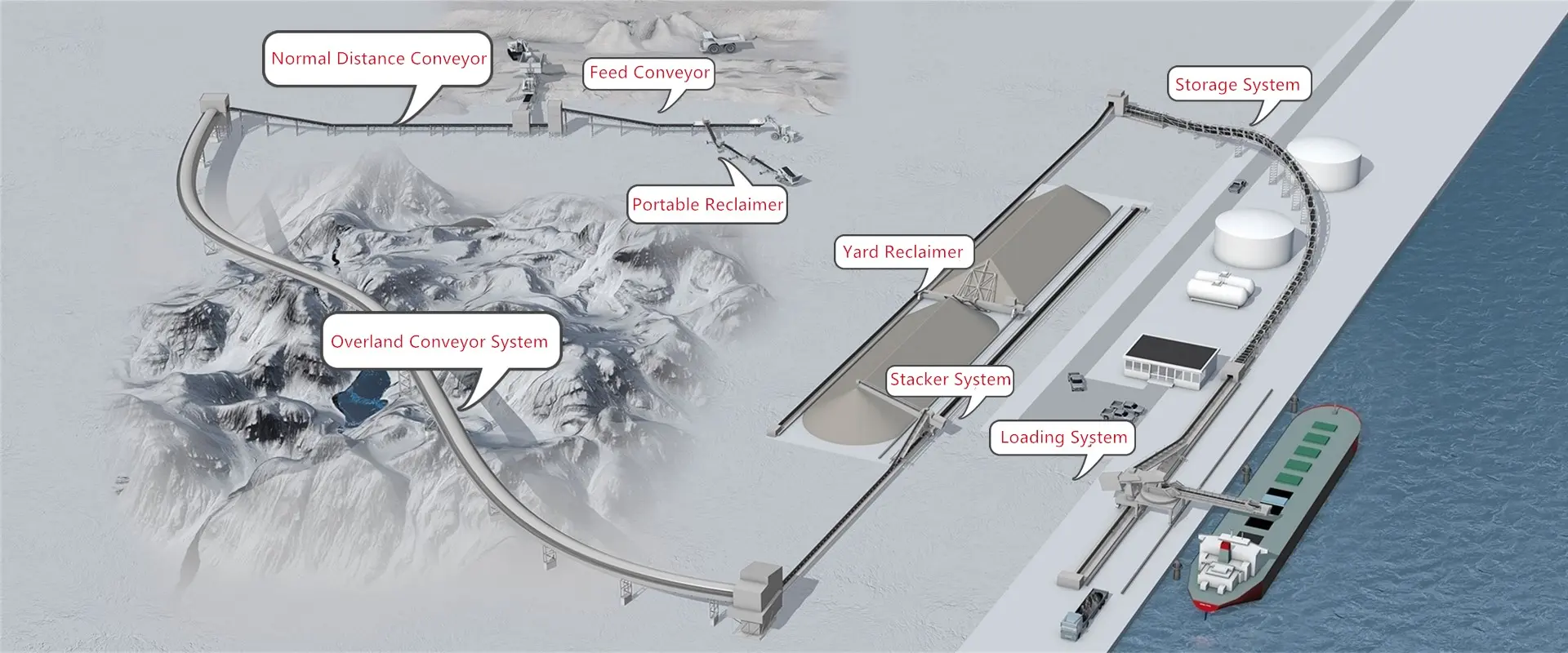 SKE Conveyor can supply bulk materials handling conveyor system solutions with high quality, large handling capacity, long operation life, and lower maintenance costs. We can manufacture and supply overland conveyor, tubular conveyor, inclined conveyor, telescoping conveyor, portable conveyor, mobile conveyor, belt stacking conveyor machine, belt reclaiming conveyor equipment, belt ship loader conveyor, portable tracked and wheeled shiploader conveyor, truck and railcar loading and unloading conveyor, etc.
Conveyor System Integration
Stockyard Conveoyr System

---

New stockyard stockpiling conveyor system using tripper conveyor, radial stacker, and mobile stacker conveyor.
Port Conveyor System

---

New port ship loading conveyor system including stockyard conveyor, transferring conveyor, shiploader conveyor.
Mine Conveyor System

---

Mine ore conveyor system for mine ore mining, crushing & screening,ore dressing, and ore tailings handling.
Aggregate Conveyor System

---

Aaggregate conveyor system for sand making, stockpiling, loading & unloading of truck, wagon, ship, barge.
Bulk Materials Handling Soutions
SKE Conveyor provides in-plant belt conveyor, mobile belt conveyor, tracked conveyor, radial stacker, stockpiling conveyor, tripper conveyor, mobile stacking conveyor and reclaiming conveyor machine, ship loading and unloading conveyor machine, etc. You can apply them to from a complete bulk material handling system. Our bulk materials conveyor systems are widely used in quarry plant, coal mining plant, stockpiling management plant, port / inland terminal / dockside, railway station, truck loading station, thermal power plant, paper making plant, chemistry industry, metallurgical plant, cement plant, conrete mixing plant and building construction materials factory, etc.